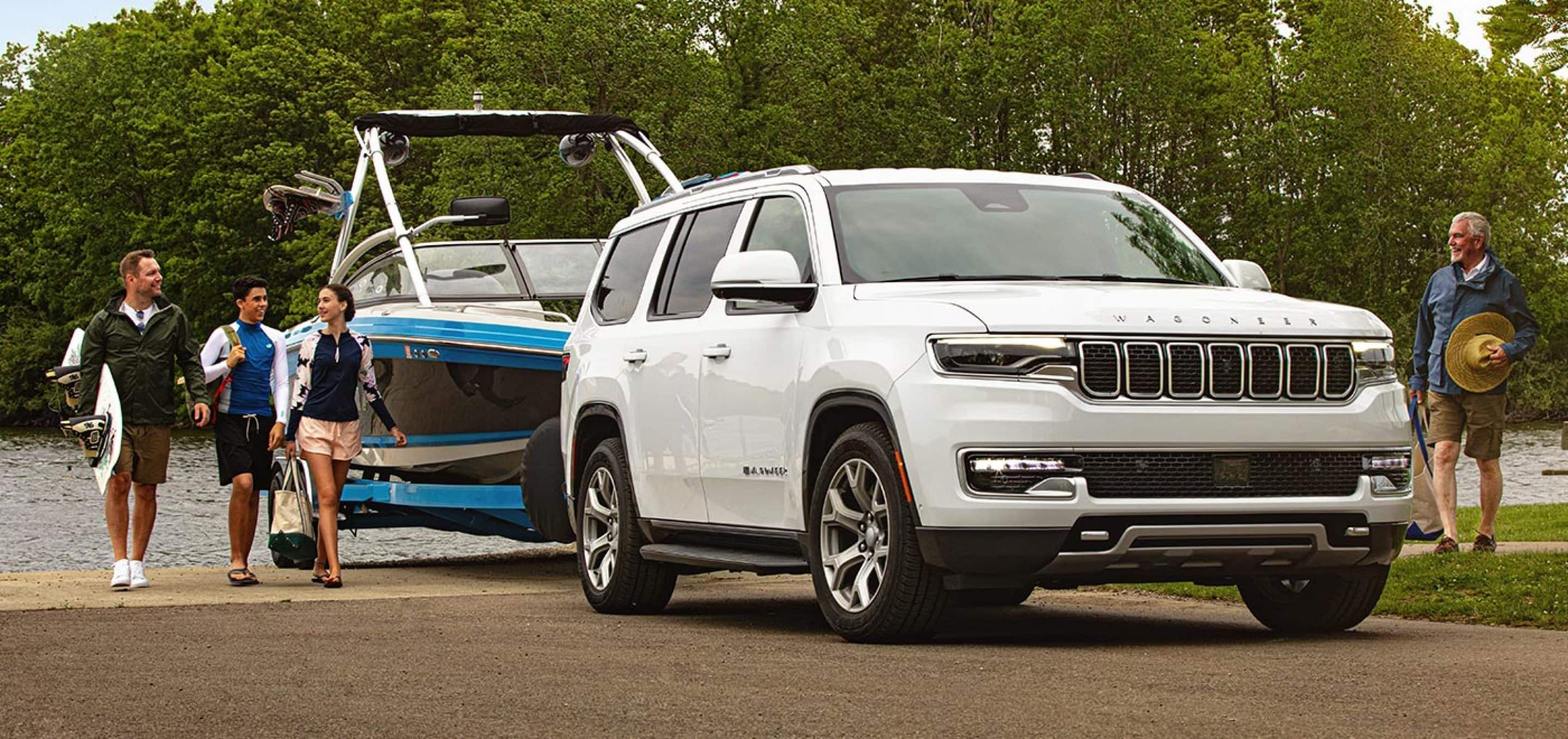 Wagoneer Dealer serving New Mexico NM
This year, the Wagoneer was reintroduced to the drivers, and it is one of the most powerful and luxurious SUVs out there. With a spectacular V8 engine to go along with leather seats and a world-class infotainment system, there are plenty of reasons to be excited about this impressive SUV! If you're interested in the Wagoneer, you can get yours right here at Richland Chrysler Dodge Jeep Ram! Feel free to head down to our dealership and speak with one of our knowledgeable and friendly sales team members, who will be more than happy to set you up with a test drive! If you enjoy driving the Wagoneer, then be sure to check out our finance department, where we will work with you towards a deal that will suit your budget. Even if you can't make it to the dealership, you can still check out our complete Wagoneer inventory here on our website!
Getting to Richland Chrysler Dodge Jeep Ram
It's simple to get to Richland Chrysler Dodge Jeep Ram from anywhere in New Mexico. Start by getting on Co Rd B033. Turn left to get on NM-42 S and then turn right onto Main Street. Turn left to get onto NM-247 and then make a right onto US Hwy 285 S. You'll pass by a Wendy's on your left as you travel. Bear slightly left onto S Main Street and then take a left onto E Wildly Street. Our dealership will be on your left. If you see Roswell Ait Center, you have gone too far.
About New Mexico
New Mexico is the fifth-largest state in the United States and has one of the most diversified economies in the union. Major sectors include oil and mineral extraction, cattle ranching, agriculture, lumber, and scientific and technological research. There is also a spectacular tourism and visual arts industry. New Mexico is home to several museums, such as the Deming Luna Mimbres Museum and the Western New Mexico University Museum, celebrating New Mexico's culture and history. In fact, there is a significant cultural community in Santa Fe as the city is home to several artists, including Bruce Nauman, Richard Tuttle, John Connell, and Steina Vasulka, whose work can be seen in different places around the city and at the New Mexico Museum of Art, Museum of Spanish Colonial Art, Museum of International Folk Art, Museum of Indian Arts and Culture, Museum of Contemporary Native Arts, and SITE Santa Fe.
Get a Wagoneer at Richland Chrysler Dodge Jeep Ram
Our online site hosts our inventory of all of the trims of the Wagoneer to allow shoppers in the New Mexico area to search at their convenience. No matter what your needs are, we're sure we can find a version of the Wagoneer that will suit all of your needs and wants.
Value Your Trade in New Mexico
If you want to get some value for your old vehicle to put toward a new one, we can help you out with that! All you need to do is fill out a form here on our website, and we will help you with the rest here at Richland Chrysler Dodge Jeep Ram!
Finance your Wagoneer at Richland Chrysler Dodge Jeep Ram
Getting an affordable Wagoneer loan in New Mexico is easy, courtesy of Richland Chrysler Dodge Jeep Ram. Applying for your Wagoneer loan can be quickly done using our secure finance application form online. Our friendly staff will review your application and get back to you on time as soon as it's received.
Get Service for your Wagoneer here at Richland Chrysler Dodge Jeep Ram
If you have got a problem with your Wagoneer vehicle, then bring it by and let our talented mechanics here at Richland Chrysler Dodge Jeep Ram diagnose and solve the problem. Even tough-to-find parts aren't a problem for our friendly staff. Please arrange for a service appointment via our website. We look forward to working on your Wagoneer and meeting you here at Richland Chrysler Dodge Jeep Ram!
New Mexico Resources
Check out some terrific places to visit here in New Mexico!